FR

Historic Monuments in Switzerland
Switzerland is full of places and sites that make it a country rich in history and charm. Below is a small overview of the historical monuments not to be missed during your stay. All of these sites are listed as UNESCO World Heritage Sites:
Bern's Old Town: a site worth visiting because of its medieval atmosphere and picturesque buildings.
St. Gallen Abbey : this building is located in St. Gallen and has more than 1,000 years of history!
The Benedictine Convent of St. John of the Sisters: it dates from the 8th century and is located in the town of Müstair.
The three castles of Bellinzona: the castles of Castelgrande, Montebello and Sassi Corbaro are located in Ticino exactly in Bellinzona, and were built between the 13th and 15th centuries for military reasons.
The Lavaux is a thousand-year-old wine-growing region that owes its reputation to its terraced vineyards near Lake Geneva.
The Rhaetian Railway in the Albula and Bernina landscape : a very spectacular route through the Swiss Alps, comprising 42 tunnels and covered galleries as well as 52 viaducts and bridges.
The towns of Le Locle and La Chaux-de-Fonds : two medieval towns closely associated with the watchmaking industry since the 18th century.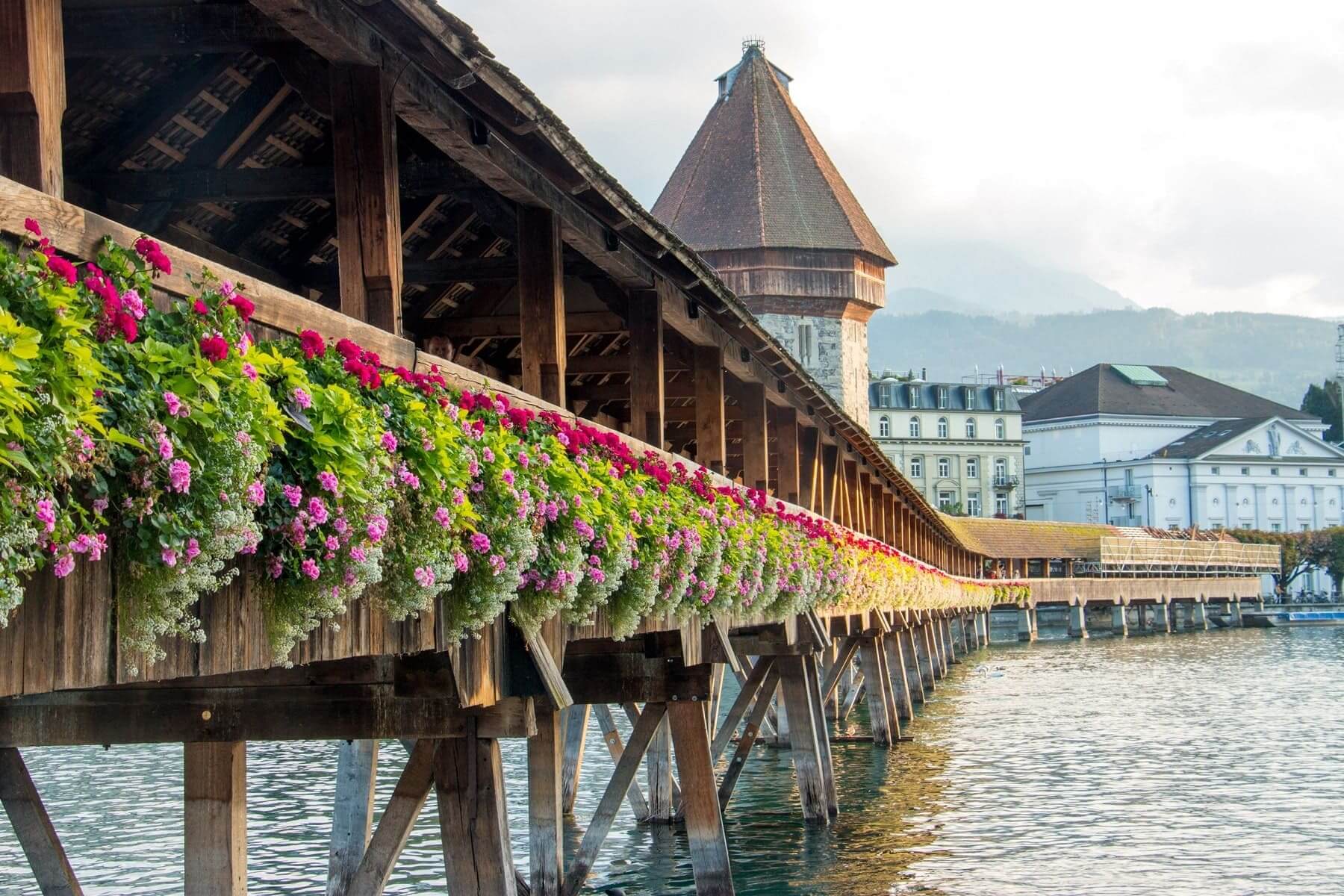 The Lucerne Bridge ("Kapellbrücke" in German): this covered wooden bridge, the oldest of its kind in Europe, is one of the most photographed monuments in Switzerland! With a length of 204 m, it crosses the river Reuss to link the banks of the old town.
Museums in Switzerland
National Museum of Zürich: Located in Zürich, this museum, which dates back to 1898, houses the largest collection of historical objects in Switzerland.
Geneva Museum of Art and History: it brings together more than 7,000 historical objects to better discover the history of Switzerland.
Élysée Museum: located in Lausanne, this museum is dedicated to the art of photography, and exhibits more than 100,000 prints and photographic collections.
Museum Jean Tinguely: this is a museum in Basel dedicated to works of art dating from the 20th century.
Far Eastern Art Museum: through more than 9,000 works, this Geneva museum focuses on the culture of the Far East.
Ariana Museum: located in Geneva, it is mainly dedicated to ceramics and glass.
Bourbaki Panorama: located in Lucerne, the Bourbaki Panorama houses a giant circular painting measuring 112x10 metres, telling the story of the Franco-German War
Museum of Fine Arts in Basel: it includes a collection dating from the 15th to the 20th century.
Events in Switzerland
January

The Swiss Film Days: an event that takes place over 8 days in the city of Solothurn.

The Trees and Lights Festival: an artistic event that takes place in Geneva.

February

Fasnachts: it's simply carnival season. The country's most remarkable carnivals take place in Basel and Lucerne.

March

Festival Voix de fêtes : this is an annual musical event that takes place in the canton of Geneva

The Geneva Motor Show.

April

Le Salon International du Livre et de la Presse de Genève .
Le Mapping Festival de Genève : un festival qui met en exergue les nouveautés en matière de l'art audiovisuel et des cultures numériques.

May

The Sismics Comics Festival : it takes place annually in the city of Sierre.

June

Bol d'or Mirabaud : a nautical race that takes place on Lake Geneva.

July

Rigi-Staffel Boxer Wrestling: a national sport widely practiced in the valleys and mountains of the German-speaking part of Switzerland .
Geneva Festivals

August

Locarno Film Festival

September

Grape Harvest Festival: a popular festival that dates back to the 20th century and takes place in Swiss cities. The most important of these is held in Neuchâtel.

October

The Chestnut Festival in Ascona : A popular festival celebrated in Ascona, Ticino, dedicated to the Chestnut.
Foire du Valais : one of the flagship events of French-speaking Switzerland held in Martigny.

November

Geneva Film Festival

The Drum Beat Festival: a musical event dedicated to the rhythms of Africa.

Transvoisines Festival : is a festival dedicated to French and Swiss music that takes place in Geneva.

December

Cortège historique de l'Escalade : une fête qui commémore la bataille de l'Escalade qui s'est déroulé en 1602.
Historical procession of the Escalade: a festival commemorating the Battle of the Escalade which took place in 1602.
Nature Parks in Switzerland
The fan club of eco-tourism will love Switzerland for its greenery, its lakes, but above all for its very high alpine peaks with altitudes in excess of 4,000 m. Prepare your backpacks, happiness awaits you!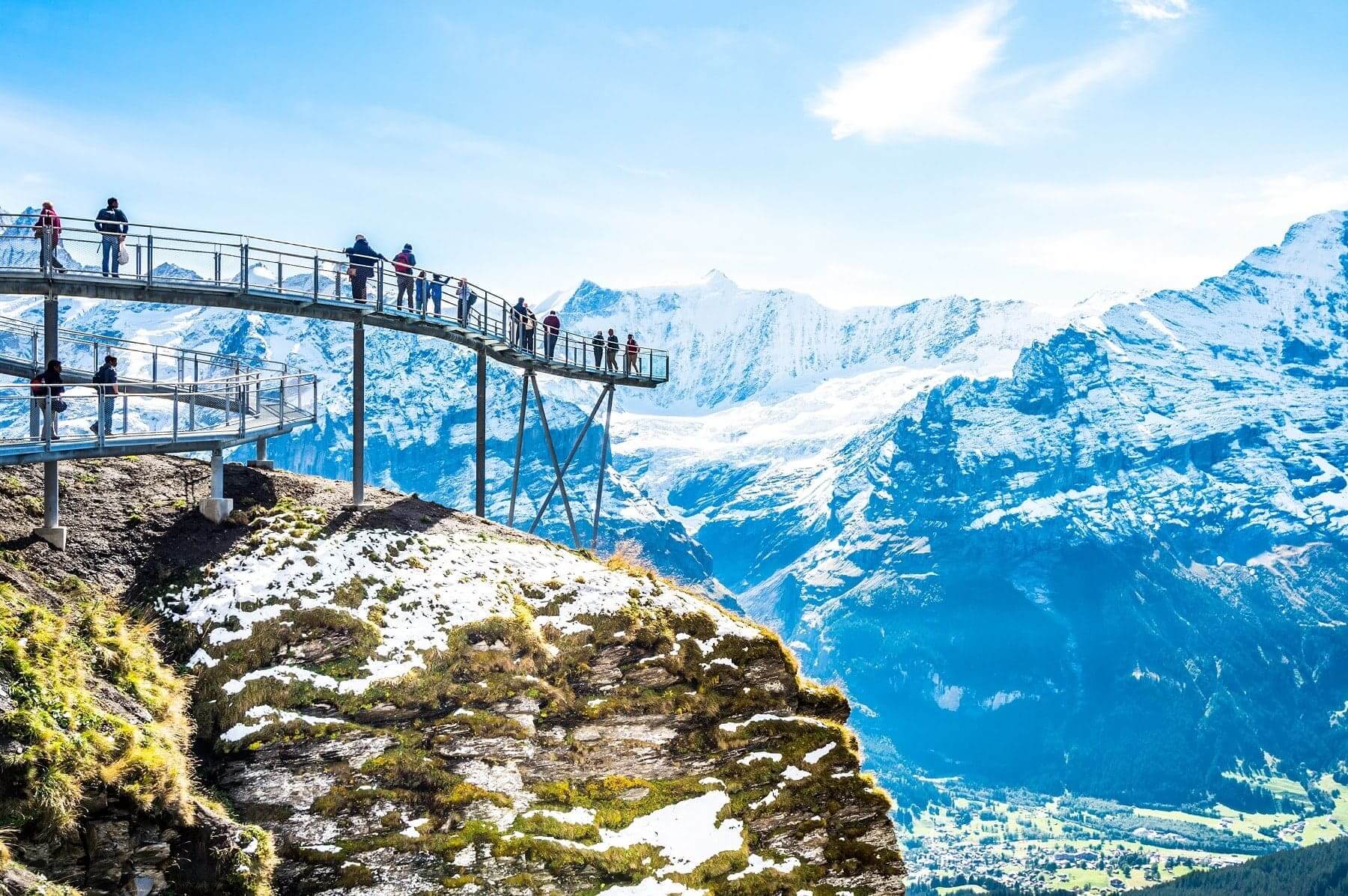 For your trip to Switzerland, we recommend you to visit other natural sites such as :
The park Jura vaudois (Saint-George)
Schaffhausen Regional Nature Park (Wilchingen)
Neckertal Nature Park (Brunnadern)
Beverin Nature Park (Casti-Wergenstein)
Binn Valley Nature Park (Binn)
The Doubs Park (La Chaux-de-Fonds)
The Gantrisch Nature Park (Schwarzenburg).
The Diemtigtal Nature Park (Oey-Diemtigen).
The nature park Thal (Balsthal)
Chasseral Regional Park (Moutier)
Aargau Jura Park (Frick)
The natural park Pfyn-Finges (Sierre)
We have saved the best for last: Monte San Giorgio, the Swiss Alps Jungfrau-Aletsch and the Swiss Tectonic Highland Sardona. These are three fabulous natural sites listed as UNESCO World Heritage Sites.
Amusement parks and zoos in Switzerland
Swiss Vapeur Parc at Bouveret
Juraparc a few kilometres from Lausanne
Prehisto-parc a few kilometres from Porrentruy.
Fun Planet at Villeneuve
Swiss Miniatur at Melide
Switzerland also has many zoos :
Basel Zoo
Zurich Zoo
La Garenne zoo in Le Vaud
Dählhölzli Zoological Park in Bern
Al Maglio Zoo in Magliaso
Nightlife in Switzerland
The Swiss know how to party! We have selected for you the best places to go out in Switzerland...
Some nightclubs/clubs in Switzerland
Bypass in Geneva
Moa Club in Vernier
Tsunami in Conthey
Point Bar in Geneva
Monte Cristo Club in Geneva
Some bars/pubs in Switzerland
Café Art's in Geneva
FMR (Funky Monkey Room) in Geneva
Santa Cruz Bar in Geneva
Cactus Club Bar in Geneva
Mr. Pickwick Pub in Geneva
Some restaurants in Switzerland
Le Café Suisse in Bex
Restaurant Edelweiss in Geneva
Caveau des Vignerons in Montreux
Oepfelchammer in Zurich
Restaurant de l'Hôtel de Ville Crissier
---
Comparez et réservez les meilleures offres pour visiter Suisse - ENG
Enrichissez vos séjours avec des activités exceptionnelles aux côtés de guides bienveillants avec :

Avez-vous trouvé les informations que vous recherchiez ?
OUI
NON
Dites nous ce que vous n'avez pas trouvé