FR

Going to the Netherlands
All means are good to travel to the Netherlands! You can choose to travel by plane, train, coach or car.
Plane
Several daily flights are scheduled by AirFrance and KLM (Dutch national airline), including 15 flights a day from Paris. The flight time from Paris to Amsterdam is about 1h15, for a price of about €58 in low season and about €178 in high season.
Train
The train is also a good transport alternative in the Netherlands: fast and very comfortable. The journey takes no more than 3h20 from Paris to the major cities of the Netherlands. The Thalys company offers nearly 10 daily departures to Amsterdam, Schiphol and Rotterdam from Paris-Nord station for the price of €50 in high season, but ask around, you can always find special offers and cheaper tickets!
Autocar
For small budgets, the autocar is the most economical solution, but be patient because the journey is longer. There are several departures from many cities in France to major cities in the Netherlands, for around €42.
Carpooling
Another alternative means of transport to get to the Netherlands is carpooling. There's nothing better than exploring another country in the company of new people. Just like the autocar, the journey will be long, but it will go much faster if you are in good company. And it costs you practically nothing!
Transport networks in the Netherlands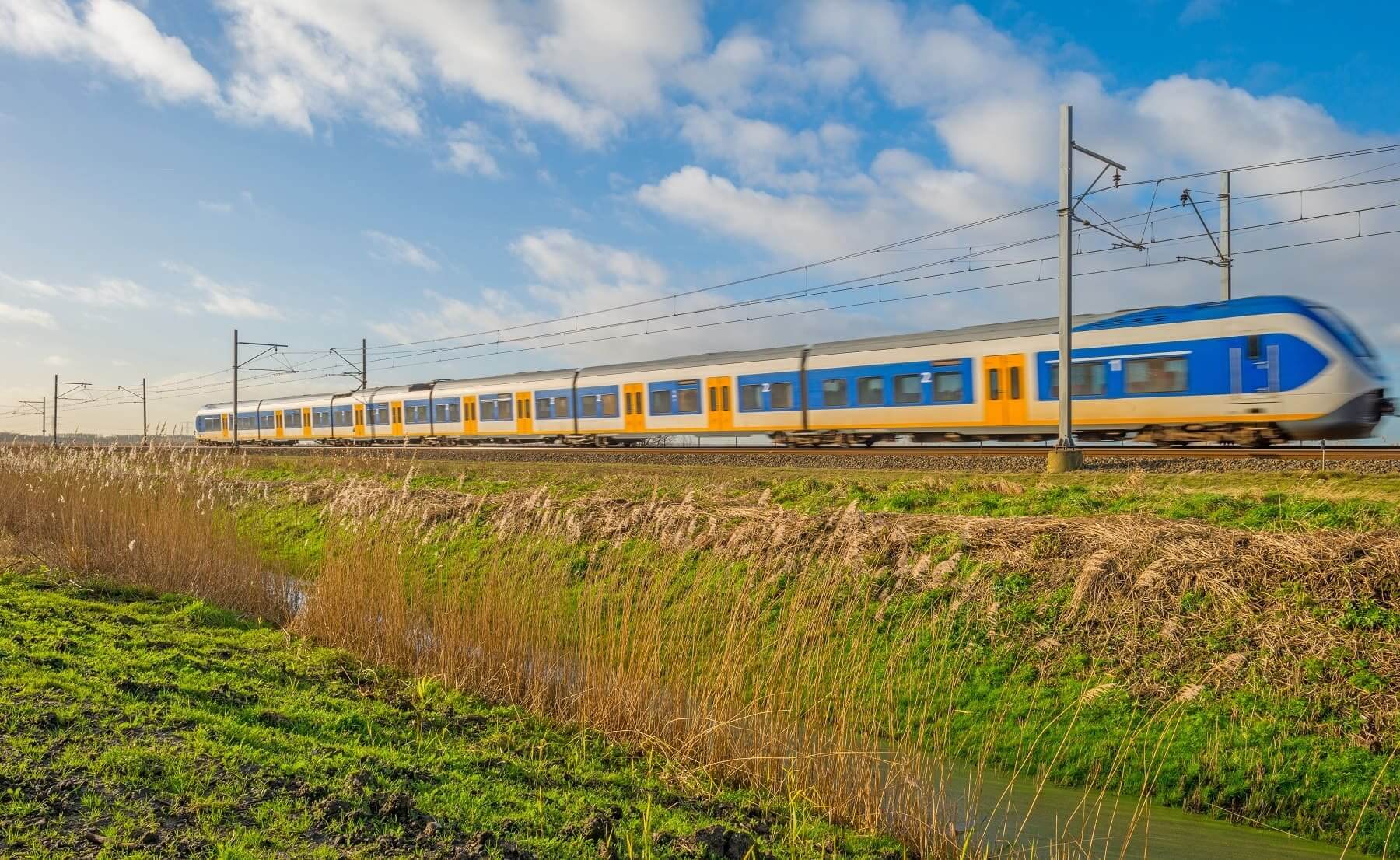 Inter-city travel
The Netherlands has a very important but above all very good transport infrastructure. With the largest port in Europe (Port of Rotterdam) and one of the largest airports in Europe (Amsterdam-Schiphol Airport), the country has the resources to receive many tourists.
As far as the road network is concerned, traffic is easy thanks to the countless roads and highways. All of them are free of charge and without tolls. Travelling around the Netherlands (from one city to another) is easy by train, ferry, bus or plane. You have a wide range of options.
Train
The railway network is very modern and developed. It is an advantageous solution for travelling around the Netherlands. The national railway company NS manages the majority of national lines, including the TGV intercityDirect and NS Hispeed, which connect some major cities in record time (Rotterdam - Amsterdam in 45 minutes).
During the later hours, night trains take over. NS has a night train network between Rotterdam Central, The Hague HollandsSpoor, Leiden Central, Amsterdam Schiphol Airport, Amsterdam Central and Utrecht that passes frequently. So if you feel like partying in Rotterdam while you live in Amsterdam, you can still go home and sleep over!
Train tickets are sold at the NS ticket office or in stations. Ideally, you should buy the OV-chipkaart card, a smart card that can be used for all public transport, including trains.
Bus
Very economical, it is not, however, the preferred way of transport for the Dutch. They use it more for regional trips than for long journeys.
There are two categories of regional buses : Interliner buses and express buses. They are convenient and comfortable for travelling around the Netherlands, from city to city. Tickets can be bought on board. Payment is also possible via the OV-chipkaart. Please note that prices differ from area to area.
Ferry
Ferries are undoubtedly the best way to enjoy your trip. Thanks to the many canals and waterways in the Netherlands, travelling by ferry is commonplace. They usually carry cyclists and pedestrians, but some carry cars.
Les FastFlying Ferries (ferries rapides) relient Amsterdam aux villes d'IJmuiden et de Velsen, tandis que les Waterbus relient Dordrecht à Rotterdam. Si vous voulez visiter les îles de la Frise-Occidentale, n'hésitez pas à emprunter les ferrys à deux étages : un must à essayer.
FastFlying Ferries (fast ferries) connect Amsterdam with the cities of IJmuiden and Velsen, while Waterbuses connect Dordrecht with Rotterdam. If you want to visit the West Frisian islands, double-decker ferries are a must try.
Intra-city travel
Between metro, tramway, train, city bus, bicycle, and taxi, mobility is easy.
Subway and tramway
These are the most practical and widely used means. They have fixed schedules, although they differ from city to city. They are convenient to avoid traffic jams, safe and above all very economical.
Urban buses
Every city in the country has an extensive bus network. Wherever you are, you will certainly find a bus stop, as there are several lines serving the entire city. Better still, if you want to explore the tulip fields around the cities or just visit the surrounding area, buses can take you there.
After midnight, night buses run until 6 a.m. to allow you to travel around the Netherlands at any time!
Boats
It is undoubtedly the ideal choice for a trip on the Dutch canals or simply to reach the other end of the city. There are flyboats, taxi boats and other boats that are more popular among tourists. There are many companies operating all over the country with relatively similar prices.
Taxi
Taxis are very numerous in the Netherlands, but just like in France, they are expensive. They are very convenient when you are late both day and night, except in traffic jams, when it is advisable to use public transport.
As taxis are not allowed to stop anywhere, there are fixed stops. It is at these stations that you will find them more easily.
Bike
It's a fact, the Dutch ride bicycles a lot ! It's one of the best ways to get around. Thanks to the many cycle paths in the country, it is very easy to get around by bike, and it is even very pleasant. But beware, you are not going to drive the way you want. In the Netherlands there are rules for cycling.
Driving in the Netherlands
If you are used to driving in France, you will do perfectly well in the Netherlands. The driving rules are practically the same in both countries. To start with, driving is on the right, and seatbelts are compulsory for all passengers in the front and back.
If you don't want to get caught by one of the many speed cameras or traffic surveillance cameras, you'd better stick to the following speed limits:
In town: 50 km/h (unless otherwise indicated, of course!).
On the road : 80 km/h.
On the expressway: 100 km/h.
On the highway: 130 km/h.
Please be aware that it is very important to pay attention to the limitation signs. The Dutch are anything but lenient when it comes to rules of driving. This explains the incredible number of speed cameras in the country.
As for the tolerated blood alcohol level, it is 0.5 g/L. Stick to the rules, it's a subject that is no joking matter in the Netherlands! One piece of advice: for your festive evenings, plan another way to get home instead of driving. Finally, it should be noted that finding a parking space is a real challenge, especially in the big cities, where parking is usually very expensive.
For more information on driving rules in the Netherlands or for any other information, you can contact the following road organisations:
Koninklijke Nederlandse Toeristenbond (ANWB), Wassenaarseweg 220, 2509 BA - DEN HAAG - Pays-Bas (Netherlands)
Koninklijke Nederlandse Automobiel Club (KNAC), Postbus 93114, 2509 AC - DEN HAAG - Pays-Bas(Netherlands)
Parking reservation
For parking: Book your car park in the Netherlands with PARCLICK. Take advantage of an extensive network in and around major cities. Short or long term parking.
Car Rental
To rent a car in the Netherlands, you must be at least 19 years old and hold a driving licence that is at least one year old. You can rent a car locally through local agencies, which will be cheaper for you, or you can book your car on the Internet on the websites of international companies.
---
Créer votre alerte
Vous recevrez un email quand le prix du billet d'avion sera au plus bas.
Avec Eelway, Voyagez sans vous soucier de vos bagages. Eelway récupère vos bagages à votre adresse et vous les livre où vous le souhaitiez en France et à l'international.
Avez-vous trouvé les informations que vous recherchiez ?
OUI
NON
Dites nous ce que vous n'avez pas trouvé